Welcome to the Hot Springs County, Wyoming County Sheriff's Department
---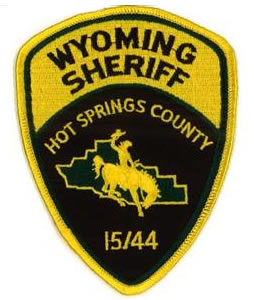 The Hot Springs County Sheriff`s Office is dedicated to the protection, well-being, safety and security of all the people of and visitors to Hot Springs County.
The office is also responsible for operating a safe and constitutional detention center. In recent years, the office has upgraded its radios and communications.
The Office has supported programs that encourage education, self-help and self-esteem.
---
In the event of an emergency please call 911.
For all other calls, please dial 307-864-2622.
Our Deputies are on duty 24 / 7.
We hope to lead by example in fulfilling our obligation to our community.
---
VIN Checks: $10/vehicle

HIN/VIN Checks: $10 for boat/trailer (when done simultaneously)

Paper Service: $50/person (unless married & residing at the same place)-If you have questions about this, please call to avoid delays in service

Fingerprints: $5 per card

Concealed Firearm Permits: You can find the application & instructions for new applicants and renewal applicants in our important documents tab below. If you need further assistance with this, please call our office. You can also visit the Wyoming state website at http://wyomingdci.wyo.gov
---
Important Documents - County Sheriff