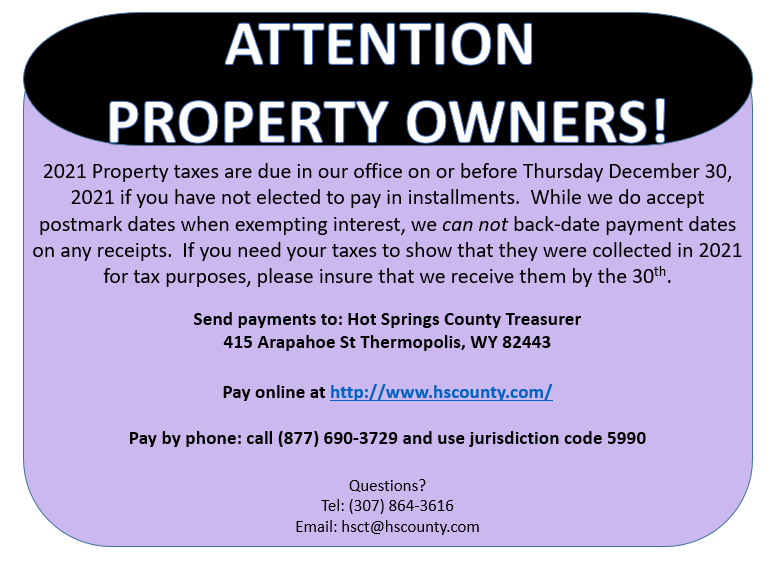 WE ARE HERE TO SERVE YOU! We understand that during this difficult time many of you may have concerns about how to conduct your business or even if you need to. Please be aware that there is no known plan in place to defer payment dates. Your 2021 taxes are due by December 31, 2021 if you elect to pay the total amount, or you may chose to pay in installments with the first half due on or before Nov 10, 2021 and the second half due on or before May 10, 2022.
We have provisions in place to take care of almost all of your needs remotely, but the office is open to foot traffic. We just ask that only one customer enter an office at a time. You can mail us your payments or you can scroll up and pay for renewals and taxes by check or credit card from this very web-page! Are you concerned about licensing a new purchase? Give us a call and we can walk you through each step over the phone. Our contact information is listed to the right of the above notice regarding taxes due. Let us take the worry out of at least this one aspect of your life.
Tribal plates are now available! Any person required to register a vehicle in Wyoming may apply to the University of Wyoming for distinctive Eastern Shoshone or Northern Arapaho Tribal license plates.


*Applicants are not required to be a tribal member to apply for this Specialty Plate*

MORE INFORMATION
---
---
---
Vehicle sales tax exemption for tribal member now only applies if the sale occurs on the Wind River Indian Reservation.

The Treasurer's office will require evidence that the property was delivered by the seller to a location on the Wind River Indian Reservation. Acceptable evidence will be a shipping document provided by the common carrier or an Affidavit Of Delivery.
The Wyoming Department of Revenue is requesting that the Affidavit of Delivery be placed on company letterhead and the purchaser has to sign it as well.This also applies to person-to-person sales.
---
Requirements to license a vehicle: Wyoming Title - proof of insurance on motorized vehicles - proof that the vehicle was registered in another state to you or proof that you paid sales tax. If this is a new purchase, you will be charged sales tax based on the rate in effect in your Wyoming place of residence. Sales tax must be paid within 65 days of purchase or be subject to penalty and interest on the tax amount.

Motor Vehicle county fees are based on the original MSRP (factory price) of the vehicle from the factory to the dealer: year, make, model and trim package. This gives the valuation which is then multiplied by 3% which gives the county fee. This fee is an ad valorem tax in lieu of property tax. The state fee is a flat fee of $30.00 for passenger vehicles. Trucks, trailers, motor home`s and campers state fee is based on weight.

Example: Brand new car factory price $35,000.00 x 60% = $21,000 x 3% = County fee $630.00. This fee is pro-rated downward for the first 6 years of the life of the vehicle till the formula would be $35,000.00 x 15% = $5250.00 x 3 % County fee $157.50. The % is as follows: 60% - 50% - 40% - 30% - 20% - 15%

Please feel free to contact us to receive assistance in calculating your registration fees.

As you can see the more expensive your vehicle the more it costs to license in Wyoming. Wyoming is not cheap when it comes to motor vehicle fees. Please contact us for more information if you plan to move to our state.

As per Wyoming Statute 31-2-201, registration is required upon becoming a resident in the case of a previous nonresident owner.